Living in the Midwest, one thing people around know is really good quality beef. While you can get good quality beef in the grocery stores here, if you want the BEST quality beef, you need to look a little harder. I've visited most of my local butchers and been really impressed with the beef cuts and steaks I got there, but nothing has held a candle to Snake River Farms Steaks and Roasts!
I was sent a box of various Snake River Farms steaks, roasts and ground beef to try. I'm also able to offer you a 10% discount on any order you place using my affiliate code: WIMOM.
Part of understanding why the beef from Snake River Farms is so good is learning about where it comes from. Lots of folks are familiar with Kobe beef but few understand what it really means – other than being very high quality and expensive beef from Japan. Kobe beef is Wagyu beef (Wa meaning "Japanese" and Gyu meaning "cow"). While any beef from four specific breeds of Japanese cows: Japanese Black, Japanese Brown, Japanese Polled and Japanese Shorthorn is Wagyu beef, Kobe beef is Wagyu beef that is only from cows born, raised and slaughtered in the actual city of Kobe, in the Hyōgo prefecture of Japan. So think of it like you do squares and rectangles: all Kobe beef is Wagyu beef, but not all Wagyu is Kobe. Make sense?
So what does all this have to do with Snake River Farms meats?
Snake River Farms offers American Wagyu beef. What is that exactly? Well, they took Wagyu cattle and bred them with high-quality Black Angus American cattle to produce a whole new line. These cattle produce beef with extensive marbling and a rich deep flavor. (Marbling is the steaks or flecks of white fat you see through higher-quality beef. It makes for a much tastier and more tender piece of meat.)
Where can I get Snake River Farms meats?
You won't find Snake River Farms products at your local grocery store. They are only available to order on the Snake River Farms website. I know I get nervous when I order perishable food online, but rest assured that your meat will be packed VERY well and sent with more than enough dry ice to keep it fully frozen.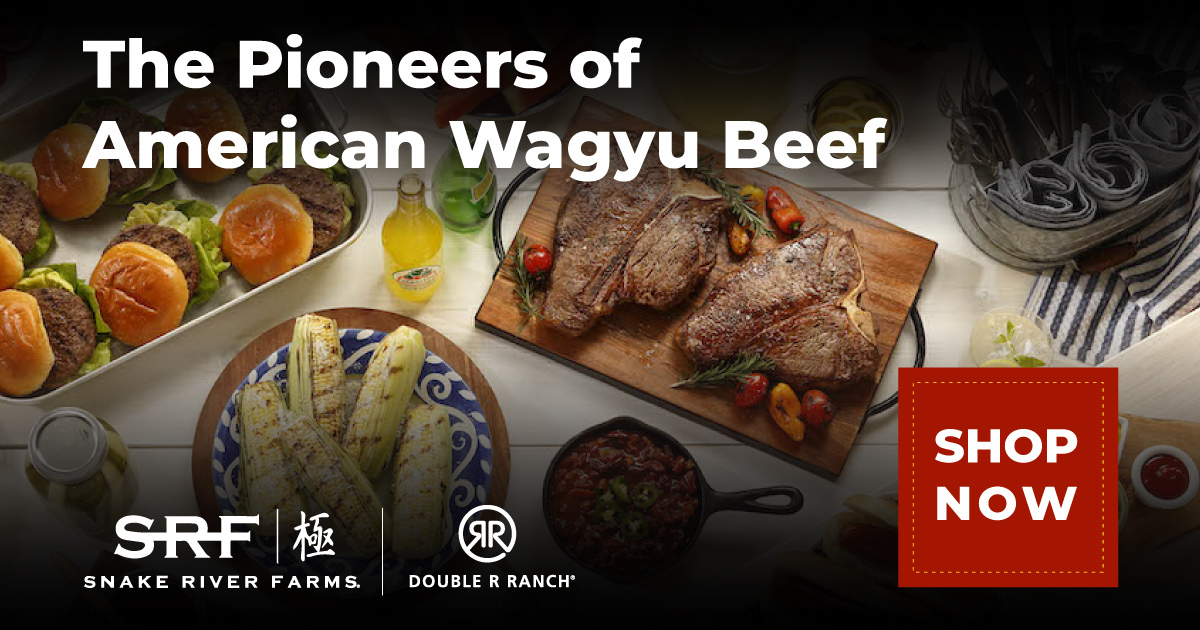 What are the advantages of ordering through Snake River Farms website?
Besides getting the very best quality beef available in the US, you also will save yourself a trip to the store. I personally hate going grocery shopping, especially around a holiday when it's crazy busy! Give me the chance to order my Christmas roast or my Fourth of July hotdogs online and I'll grab that opportunity! Plus, don't forget that you'll get an added 10% off when you use my code WIMOM!
What else can you purchase through Snake River Farms?
Besides Snake River Farms steaks and roasts, you can also purchase ground beef, hot dogs, pork and ham.
Before you run off and place your order, I wanted to share my first experience with Snake River Farms. I grew up on the East Coast and one of my favorite dinners was a good London Broil. I remember my dad grilling it up and absolutely loving it. Once I moved out on my own, I tried fixing it a few times and learned how difficult it can be to grill it "just right" so that it isn't too tough. Once I moved to Wisconsin, I didn't see that cut in the stores and kind of forgot about it.
When I opened my box from Snake River Farms, one of the cuts was a tri-tip. Not being familiar with that cut, I Googled it and found that it is also known as a "flank steak" or a "London broil". I thawed it out and went digging for my favorite London broil marinade recipe.
What is a good beef marinade recipe?
In case you want to try it as well, it's 1/4 C olive oil, three cloves of minced garlic, 1/4 C lemon juice, 1 tsp Worcestershire sauce, 1 tsp low sodium soy sauce, 1/4 tsp ground ginger, and a tsp of mustard. Allow the meat to marinate for at least 4 hours (longer if possible), turning halfway through. Season with salt and pepper to taste before grilling.
I was thrilled with how it came out! It was the most tender London broil I had ever had and the flavor of the beef was out of this world! If I had any doubts that the quality of Snake River Farms Wagyu beef is superior, they were laid to rest with every bite of that meal!!